Healthy Popcorn Recipe
Healthy Popcorn Recipe
[NYC Journal]
[Health]
Popcorn can be healthy.
Get non-GMO popcorn and pop it on the range with a little olive, non-GMO canola, or coconut oil.
Toss in a dash of salt, some turmeric — which is famous for healthiness –, and maybe some Italian seasoning.
Then a little first-cold-pressed authenticated olive oil.
Mix.
Serve with a healthy movie like The Triplets of Bellevue or that Australian movie called The Castle or that 1990 Bill Murray The Man Who Knew Too Little.
This is a great idea!
But don't put in too much olive oil, because then it will sting the back of your throat and you'll feel stupid.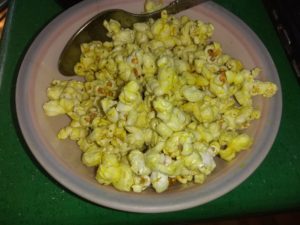 Author: Ughh
Editors: AW/BW
Copyright: AM Watson
[NYC Journal]
[Health]